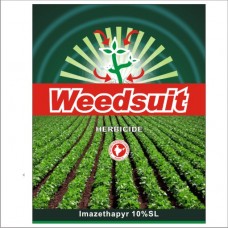 Weedsuit-(Imazethapyr 10%SL)
Applications of Imazethapyr 10%SL :
Apply to actively growing weeds in the 2 to 4 leaf stage. Weeds may not be totally controlled but populations will be significantly reduced and surviving plants will generally be severely retarded. Good crop growth will aid weed control.
* Surviving plants will generally be retarded and
will not complete with the crop. For grass weeds
a follow-up spray with a selective grass herbicide
may be required.
The product offer here is 500 ml  Pack